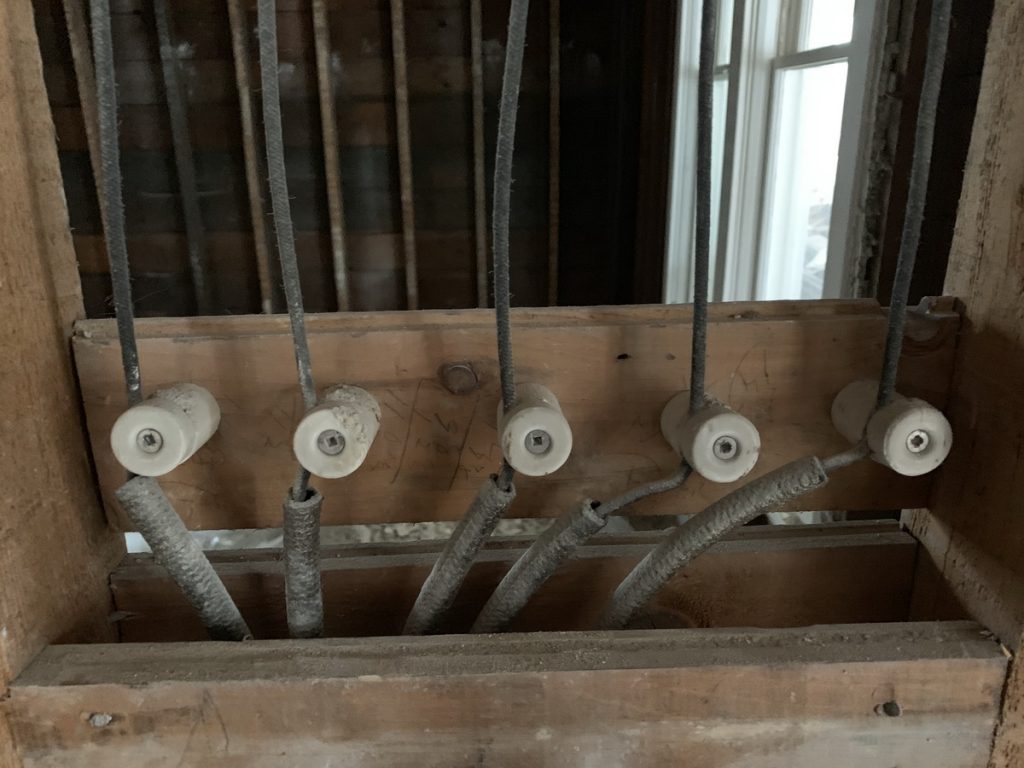 What is knob and tube wiring?
Knob&Tube was commonly used in buildings in Canada from about 1880 to the late 1940s. This type of wiring system is considered outdated and can be an electrical shock and fire hazard. The danger of electrical shock exist because of grounding wire absence therefore in the case of hot wire touching appliance or light fixture body breaker will not trip. Fire hazard comes from worn insulation and overloaded circuit, at the time of installation houses did not have that many electrical devices and couple circuits were enough for the whole house
Knob and Tube Danger Facts
When the knob&tube wiring in good condition and is treated properly it is safe enough, which is rarely the case. Since houses with K&T wiring, at least 60 years old many changes has been made and a lot of new devices were added. It is always hard to tell if all the works were done properly but from our experience, all houses had hidden junction boxes and Romex wiring was connected.
Also, knob&tube has no ground wire which means no protection against electric shock. Original two-pronged outlets will not accept any three-pronged plugs.
Though it is considered obsolete, Ontario Electrical Codes don't require complete removal of knob&tube. However it is required to make sure all connections made properly, no junction boxes are hidden, no Romex conneeected to knob&tube, and the list goes on.
Knob and tube wiring is often poorly spliced with modern wiring, causing the majority of the issues and fire hazards.
Problem with insulation
Knob and tube wiring is designed to dissipate heat into the free ai. Installing insulation around knob&tube wires will cause overheating, which again means a fire hazard.
What do we do?
We only recommend complete removal of knob&tube wiring, there is no reason to remove it particularly. Since removing this obsolete wiring involves cutting drywall it is better and safer to make it in one shot.
First, we will perform some investigation tracing out all the circuits that have the knob and tube. Often we see old 2 pin plugs and new light switches both wired on the same knob and tube circuit. In this case, we only need to remove the knob&tube wire and the new Romex may remain in place.
We will take care of everything from pulling ESA permits, completing the job, to patching any drywall damage( sorry we do not do painting). We remove all garbage and recyclable parts.
What is included in our service?
Tracing knob&tube wiring
Provide a detailed quote with total price you have to pay, no surprises
We cover the floor and furniture
Make your home electrical system to meet Code requirements
Repairing of drywall/plaster after the job and ESA inspection is completed
Installation of new outlets and switches. GFCI plugs where it is required
Removal of all waste and clean up the job site.
In the end, we provide certificate of inspection and warranty.
FILL OUT THE FORM BELOW OR CALL (647) 262-7369